Latest News
Minesh is cycling 250K
– 250k cycle challenge, from 1st August 2020 to 31st August 2020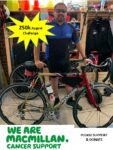 Dear Members,
Minesh is cycling 250K for a very worthy cause & a very worthy Charity so let's all show our support. Remember every little help. Please follow the link below to provide your support.
Justgiving MacMillan Cancer Support
Thank you for your support.
Navratri 2019, Market Hall, Bolton:  Starting 29th September for 9 Days
Dear Members,
New LPS are pleased to announce that this year Navratri celebrations will take place at the following location starting from 29th September for 9 days:
Market Hall, Knowsley Street, Bolton
The venue is situated on the 1st floor near the central escalators and lifts.
Free parking will be available during these celebrations.
The event has been organised in collaboration with Bolton Hindu Forum (BHF). They have organised a live band from India to perform during the 9-day event.
FREE admission will be available to ALL fully paid up members of the New LPS. Entry will be strictly on the production of our membership cards issued to all paid members.
If you are not yet in receipt of your membership card please contact Tinaben on 07707 255882 who will arrange for you to collect your card.
New LPS will have their own desk at this event should members wish to make private donations.
The Committee looks forward to this event and hopes that our members join us in celebrating the festival.
Remember, this is a ticketed event, New LPS members must be in by 8 pm after this BHF cannot guarantee entry, non-members will have to pay should they wish to attend, more details below in the picture.
Further information will be posted as it becomes available. In the meantime, if you have any questions then please contact any member of the committee who will be happy to assist you.
More details in picture below,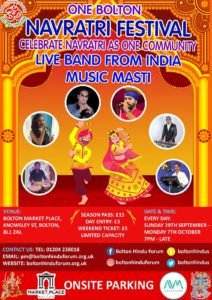 Annual General Meeting, AGM: 7th April
Our first Annual General Meeting (AGM) takes place on Sunday 7 April at the Rumworth Club, Prescott Street, Bolton, BL3 3LZ commencing at 2pm.
We encourage all our members to attend with their families so that we can share with you our achievements to date and what we have planned for the future. This is your AGM and we encourage you to participate in the event and to put your ideas forward on how you want us take this Samaj forward. We also encourage non members to attend so that they can see first hand what we have to offer the community.
Please also note that we will be collecting subscriptions on the day so please ensure that you bring along your payment.
Cricketing Opportunities
Two fantastic Cricketing Opportunities for our young aspiring kids in our Samaj. Coached by our very own Samaj member, and fully qualified , Millen Patel. ?? Lets give him all our support. If interested please get in touch with him directly.